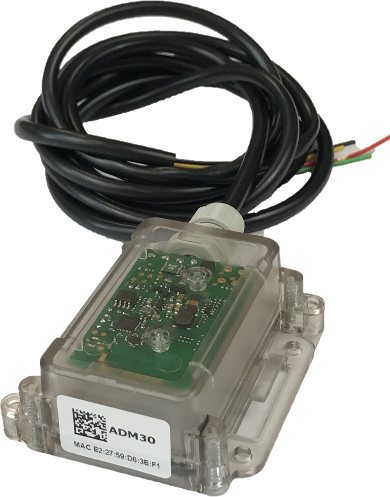 BLE base ADM30 (hereinafter referred to as a base) is intended to receive data via the radio channel Bluetooth Low Energy/Bluetooth Long Range and to transmit them via RS-485 interface.
The base can receive data from ADM31, ADM32, ADM35, Escort TD BLE sensors and etc.
You can connect up to 255 devices.
The base can be installed on moving and stationary objects.
Advantages of BLE base ADM30:
Is compatible with the majority of wired trackers having RS-485
Flexible configuration with the help of Android application
Tight case
Mounting: magnets and screws
---
Technical features of ADM30:


Operating temperature:

-40оС…+85оС


Supply voltage:


+7..+46 V of non-stabilized DC current

Frequency range of the radio interface:

2400...2483,5 МHz
Transmitter power:

Up to +8 dBm

Receiver sensitivity:

-96 dBm

Dust-and-waterproof Housing:

IP65

Data exchange technology:


Bluetooth Low Energy (BLE),

Bluetooth Low Energy Long Range (BLE Long Range)

Coverage in the mode of BLE:

up to 100 m in line-of-sight
Coverage in the mode of BLE Long Range:

Up to 500 m in the line-of-sight

Dimensions:

92 x 68 x 32 mm

Weight
133 g

Firmware for ADM30
If you need a firmware for the sensor please write to any of the following e-mails:
support@neomatica.ru
support@neomatica.com