ADM333 v2 is a renewed version of two old gps trackers ADM333 and ADM333BLE. This is an ultra-small vehicle gps tracker produced in Russia compatible with both wireless (Bluetooth Low Energy) and wired (RS-485, 1-Wire) accessories.

This gps-tracker may be used on various transport means – light cars, trucks and lorries, buses and public transport, agricultural and industrial vehicles and also quite suitable for stationary objects.
The embedded battery allows autonomous operation up to 3 hours. The tracker is compatible with various satellite monitoring platforms such as Wialon, Navixy, Gpswox, etc. and transmits data via GSM using one of two nano SIMcards.

Benefits of ADM333 v2:
Compact case
Low price
Built-in GSM and GLONASS/GPS antennas

Built-in battery
Configuration via Bluetooth
Connection of up to 3 wired or wireless fuel level sensors

Connection of up to 5 wireless sensors ADM31/32

Driver identification

Connection 1-Wire temperature sensors (DS18B20)
Remote firmware update (FOTA)
Jamming detection
Open and flexible protocol supported by most telematics servers
CE certificate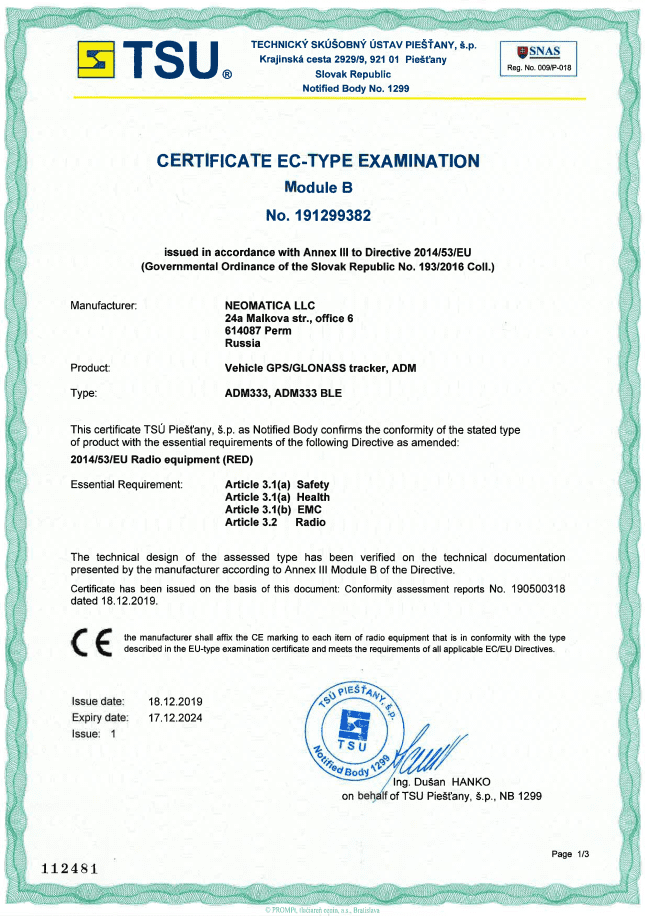 Specifications ADM333 v2:
GLONASS/GPS receiver sensitivity: 167dBm
Number of channels of GLONASS/GPS receiver: 132
Communication standard: 2G;
Number of SIM cards: 2 nanoSIM
Li-Po battery capacity: 250mA
Bluetooth Low Energy 4.0
Interface RS-485
Interface 1-Wire
Analog inputs: 2
Output: 1
Power supply voltage: +8,5..+40V
Current consumption (12V): 200mA (maximum), 30mA (average)
Operation temperature: -40..+60°C
Number of stored route records: up to 63000;

Dimensions: 55х49х20 mm;
Weight: 39g.
Downloads:
Manual
CE certificate